Deutsche COVID-19 OMICS Initiative (DeCOI)
DeCOI is a national network founded in 3/2020 for the use of NGS-based omics data in COVID-19 research. DeCOI is based on the DFG-funded network of NGS competence centers, bringing together expertise in sequencing and NGS data generation. The German Human Genome Phenome Archive (GHGA) and the NFDI4Microbiota Consortium are the other large founding consortia of DeCOI, providing extended expertise in data management and data analysis.
DeCOI is closely connected to the German Biobank Node (GBN), LEOSS, the Helmholtz KI Cooperation Unit, the German Center for Infection Research (DZIF) and the LifeTime Initiative. For the integration of NGS data into international efforts to control COVID-19, DeCOI is also partner of the international COVID-19 host genetics initiative. Therefore, DeCOI is set up as an established network to make a specific contribution to the COVID-19 crisis by utilizing NGS-technologies.
Multi-Omics-approaches in COVID-19 research
As with other diseases, multi-omics approaches, particularly those based on NGS-technologies, provide critically important information to better understand the SARS-CoV-2 infection and the disease-related aspects of COVID-19.
NGS technologies not only allow to develop new diagnostic tests, but also help to:
follow the evolution of the virus genome during the SARS-CoV-2 pandemics 'in real time',
determine the potential role of coinfections by assessing metagenomes, or
define the individual genetic disposition for the infection and the severity of the disease course.
By combining different NGS technologies for multi-omics approaches it is also possible to define specific reactions of the immune system to the virus. This includes the assessment of:
HLA sequences
T cell and B cell receptor sequences
Epigenetic changes in immune cells
Changes of gene transcription in immune cells as a reaction to the SARS-CoV-2 infection.
Particularly epigenomics and transcriptomic analyses allow to characterize the changes observed in tissues involved in the COVID-19 disease and to better understand the interaction between the virus and the patient's cells. Modern genomics even allows to do so on the single cell level and DeCOI is provided the respective technologies for scientists throughout Germany.
Integrating these data in a spatiotemporal manner, during the course of the disease and in different organs and tissue will allow:
to develop novel biomarkers and
uncover novel therapeutic drug targets
Within DeCOI multi-omics data will be integrated into other data obtained from COVID-19 patients. This will include clinical data, laboratory data and other research data.
This integration will allow to better stratify patients for new therapy options and will also allow to make better decisions in regional pandemic crisis management. NGS technologies can significantly contribute to a better decision making in handling the pandemic crisis.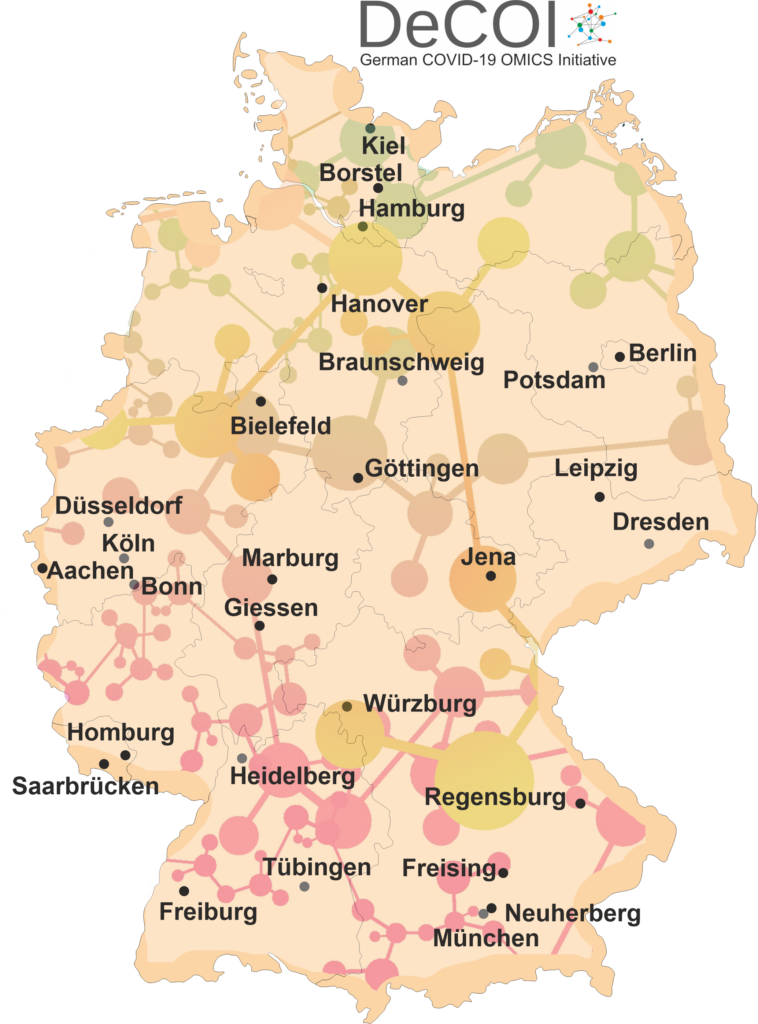 Impressum
Published by: Central Coordination Unit (CCU)
LIMES-Institute
Carl-Troll-Str. 31
53115 Bonn
Tel.: +49/ (0)2 28 / 73 – 6 27 22
contact.ccu@uni-bonn.de
Administrator: Central Coordination Unit (CCU)
Developed with WordPress