News
Below is an overview of all news and events related to DeCOI
20-05-2021
DeCOI meeting with three speakers. First was Sina Hopff and Peter Heuschmann on "Presentation of NAPKON and potential cooperation with DeCOI members". Followed by the DeCOI memeber Kerstin Ludwig who gave us an "Update on host genetics in COVID-19"
 
22-04-2021
DeCOI meeting with DeCOI speaker Prof. Leif Erik Sander giving a talk on "Functional Genomics approach to decipher the response of the lung to COVID-19"
15-03-2021
DeCOI meeting with a guest speaker Dr. Sebastian Maurer-Stroh from the Bioinformatics Institute (BII) in A*STAR Singapore tittled "Real-time Surveillance of Pathogen Evolution and Global Transmission with GISAID"  
04-03-2021
Professor Muzlifah Haniffa, Wellcome Senior Clinical Fellow and Lister Institute Research Fellow from Newcastle to report on "The cellular immune response to COVID-19 deciphered by single cell multi-omics across three UK centres"
11-02-2021
DeCOI meeting  updates and discussion. 
08-02-2021
"RKI-Bericht zu Virusvarianten von SARS-CoV-2 in Deutschland" "Das Robert Koch-Institut hat erste Analysen zum Vorkommen der zirkulierenden Varianten von SARS-CoV-2 in Deutschland veröffentlicht (siehe Primärquelle). In der Gesamtheit der untersuchten Proben sind alle öffentlich besorgniserregenden Varianten aufgetaucht; die zuerst im Vereinigten Königreich aufgetauchte Variante B.1.1.7 findet sich in knapp unter sechs Prozent der analysierten Proben."
This report includes statements from many experts including Prof. Dr. Joachim Schultze -Direktor des Forschungsbereichs Systemmedizin, Deutsches Zentrum für neurodegenerative Erkrankungen e. V. (DZNE), Bonn, und Koordinator der Deutschen COVID-19 OMICS Initiative (DeCOI). (Link to RKI report here) 
21-01-2021
DeCOI meeting with guest speakers: Prof. Chalres Chiu with his talk on "COVID-19: Genomic Surveillance in California for Emerging Variants" and Dr Christian Klug and colleagues "Viral Sequencing solutions from Qiagen" 
19-01-2021
DeCOI member Professor Dr. Jörn Walter gives an interview to the German newspaper SAARBRÜCKER ZEITUNG on the Sars-CoV-2 virus sequecing efforts and it was published on the 19th of January 2021. "Im Kampf gegen die Tricks des Coronavirus" von Peter Bylda
"Um die Pandemie zu besiegen, brauchen wir massenhafte Impfungen zum Aufbau einer
Grundimmunität. Damit dieser Sieg von Dauer sein kann, müssen wir aber auch den Mutationen immer einen Schritt voraus sein", sagt der Saarbrücker Genetiker Jörn Walter. (website link here)
16-01- 2021
Professor Joachim L. Schultze gives interview to the DER SPIGEL and it was published on the 16th of January 2021. 
"Genveränderungen können das Coronavirus gefährlicher machen. Gesucht wird nach ihnen in Deutschland jedoch kaum. Der Gesundheitsminister will nun nachbessern. Hat er einen entscheidenden Player vergessen?" – Von Julia Köppe (website link here)
07-01- 2021
DeCOI meeting. 
17-12- 2020
Joachim Schultze presents the "Deutsche COVID-19 OMICS Initiative (DeCOI)" on the first day of the Arbeitsgemeinschaft für Gen-Diagnostik (AGD) conference. For more information on the AGD confrence click here. To register for this conference by the 10th of December please click here. 
11-12-2020
Extension of the high-throughput sequencing initiative: Senate decides to continue the network for Next Generation Sequencing (NGS) and thus further options for applying for sequencing costs in projects. 
The Senate of the German Research Foundation (DFG) decided in its meeting on December 10, 2020, which was held as a video conference due to the coronavirus pandemic, to extend the Next Generation Sequencing (NGS) initiative until 2023. In March 2018, four competence centers were set up in the network and a total of 93 projects were subsequently funded in the tendering rounds for "sequencing costs in projects". Link here. 
17-11-2020
Virtual Second Workshop for the NGS-CN – 17th of November 2020 (9:30 am to 2:00 pm)
Synopsis:
The one-day virtual workshop will provide an overview of the latest updates and developments in the field of Next Generation Sequencing (NGS) as presented by the NGS-CN sites. This is a good workshop for scientists on the step of "How to get started" and "who to contact" for their sequencing projects. For registration and agenda information click here. 
05-11-2020
DeCOI meeting with scientific talks and updates. 
Topic: Minion/CoV2/compensatory mutations/ methods
Lead: Alex Dilthey
Speakers: Manja Marz: "Coronaviruses before and after pandemics — Changes in our genomic understanding of the virus"
Max von Kleist: A method that uses viral genomic data to reconstruct the incidence history
22-10-2020
DeCOI meeting with scientific talks and updates. 
Topic: Data management of COVID-19 Omics data – from local to European level
Lead:  Jan Korbel
29-10-2020
DeCOI meeting with scientific talks and updates. 
Topic: Genetic susceptibility to COVID-19
Lead: Kerstin Ludwig
Guest Speakers:
David Ellinghaus (Kiel): Genome-wide association study in severe Covid-19 with respiratory failure
Alexander Hoischen (Nijmegen): Presence of rare TLR7 variants among young men with severe COVID-19
24-09-2020
DeCOI meeting with scientific talks and updates. 
10-09-2020
DeCOI meeting with scientific talks and updates.
07-09-2020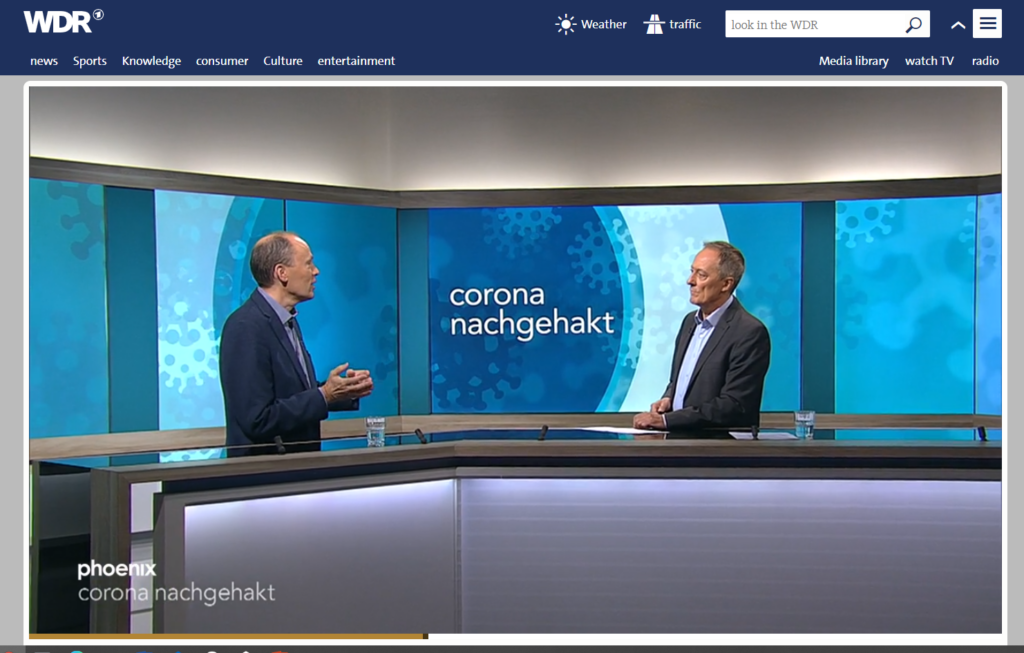 Prof. Joachim Schultze gave an interview to the WDR on the 7th of September 2020.
"What Covid-19 does to the immune system" – The immune system defends itself against Covid-19 like against any attack. But why does the defense often only work inadequately and lead to severe courses or death? Michael Krons in conversation with the immunologist Professor Joachim Schultze, Director at the German Center for Neurodegenerative Diseases in Bonn. Video link here.
03-09-2020
DeCOI meeting and updates from the work packages leaders.
06-08-2020
COVID-19: Immune system on the wrong track
Joint press release by
the University of Bonn, Charité – Universitätsmedizin Berlin, the Helmholtz Center for Infection Research, the German Center for Infection Research and the German Center for Neurodegenerative Diseases
Bei schweren Krankheitsverläufen von COVID-19 kommt es, anders als bislang allgemein angenommen, nicht allein zu einer starken Immunreaktion – vielmehr ist die Immunantwort in einer Dauerschleife aus Aktivierung und Hemmung gefangen. Fachleute der Charité – Universitätsmedizin Berlin, der Universität Bonn, des DZNE, des Helmholtz-Zentrums für Infektionsforschung (HZI) und des Deutschen Zentrums für Infektionsforschung (DZIF) präsentieren diese Befunde gemeinsam mit Kolleginnen und Kollegen eines bundesweiten Forschungsverbundes im Wissenschaftsjournal "Cell".
Die meisten Infektionen mit dem Coronavirus SARS-CoV-2 verlaufen milde oder gar ohne Symptome. Jedoch entwickeln 10 bis 20 Prozent der Betroffenen im Verlauf der COVID-19-Erkrankung eine Lungenentzündung mit zum Teil lebensbedrohlichen Auswirkungen. "Man weiß noch immer wenig über die Ursachen dieser schweren Verläufe. Die hohen Entzündungswerte, die man bei den Betroffenen misst, sprechen eigentlich für eine starke Immunantwort. Klinische Befunde sprechen aber eher für eine ineffektive Immunantwort. Hier gibt es einen Widerspruch", sagt Joachim Schultze, Professor an der Universität Bonn und Forschungsgruppenleiter am DZNE. "Wir vermuteten daher, dass Immunzellen zwar in großer Menge produziert werden, sie jedoch in ihrer Funktion gestört sind. Deshalb haben wir das Blut von Patientinnen und Patienten mit unterschiedlicher Krankheitsschwere von COVID-19 untersucht", berichtet Leif Erik Sander, Professor für Infektionsimmunologie und Oberarzt in der Medizinischen Klinik mit Schwerpunkt Infektiologie und Pneumologie der Charité.
Hochpräzise Verfahren
Die Studie erfolgte im Rahmen eines bundesweiten Konsortiums – der "Deutschen COVID-19 OMICS Initiative" (DeCOI) –, sodass sich die Analyse und Interpretation der Daten auf diverse Teams und Standorte verteilten. Joachim Schultze war als Koordinator in die Umsetzung des Projektes maßgeblich eingebunden. Die Blutproben stammten von insgesamt 53 Männern und Frauen mit COVID-19 aus Berlin und Bonn, deren Krankheitsverlauf gemäß der Klassifikation der Weltgesundheitsorganisation in mild oder schwer eingeteilt wurde. Als wichtige Vergleichsgröße dienten Blutproben von Personen mit anderen viralen Atemwegsinfekten sowie von gesunden Personen.
Für die Untersuchungen kamen unter anderem Single-Cell-OMICs-Technologien zum Einsatz: ein Sammelbegriff für moderne Messverfahren, mit denen sich beispielsweise die Genaktivität und das Aufkommen von Eiweißstoffen für einzelne Zellen – und somit sehr präzise – bestimmen lassen. Anhand dieser Daten charakterisierten die Forschenden die Eigenschaften von im Blut zirkulierenden Immunzellen – sogenannten weißen Blutkörperchen. "Diese äußerst umfangreiche Datenerhebung der Genaktivität jeder einzelnen Zelle ermöglichte es uns, mit bioinformatischen Methoden einen umfassenden Blick auf die laufenden Prozesse in den weißen Blutkörperchen zu gewinnen", erklärt Yang Li, Professorin am Zentrum für Individualisierte Infektionsmedizin (CiiM) und Helmholtz Zentrum für Infektionsforschung (HZI) in Hannover. "In Kombination mit der Betrachtung von wichtigen Eiweißmolekülen auf der Oberfläche von Immunzellen konnten wir so die Veränderungen im Immunsystem von Patientinnen und Patienten mit COVID-19 entschlüsseln", ergänzt Birgit Sawitzki, Professorin am Institut für Medizinische Immunologie am Campus Virchow-Klinikum der Charité.
"Unreife" Zellen
Das menschliche Immunsystem umfasst ein breites Arsenal von Zellen und anderen Verteidigungsmechanismen, die sich gegenseitig beeinflussen. In der aktuellen Studie lag der Fokus auf sogenannten myeloiden Zellen, zu denen auch Neutrophile und Monozyten gehören. Das sind Immunzellen, die in der Reaktionskette der Immunantwort recht weit vorne stehen, also sehr früh zur Abwehr von Infektionen mobilisiert werden. Sie beeinflussen zudem die spätere Bildung von Antikörpern und anderen Zellen, die zur Immunität beitragen. Dadurch kommt den myeloiden Zellen eine Schlüsselposition zu.
"Wir haben bei den sogenannten Neutrophilen und den Monozyten festgestellt, dass diese Immunzellen bei milden Krankheitsverläufen von COVID-19 aktiviert, also abwehrbereit sind. Sie sind auch so programmiert, dass sie den Rest des Immunsystems in Gang setzen. So kommt es letztlich zu einer ausreichenden Immunantwort gegen das Virus", erklärt Antoine-Emmanuel Saliba, Arbeitsgruppenleiter am Helmholtz-Institut für RNA-basierte Infektionsforschung (HIRI) in Würzburg.
Anders sei die Situation bei den schweren Fällen von COVID-19, erläutert Sawitzki: "Hier sind Neutrophile und Monozyten zwar zum Teil aktiviert, aber auch in ihrer Funktion gestört. Wir finden deutlich mehr unreife Zellen, die eher hemmend auf die Immunreaktion wirken." Sander ergänzt: "Das Phänomen lässt sich auch bei anderen schweren Infektionen beobachten, der Grund dafür ist jedoch unklar. Es spricht vieles dafür, dass sich das Immunsystem bei schweren COVID-19-Verläufen gewissermaßen selbst im Wege steht. Dadurch kommt es womöglich zu einer unzureichenden Immunantwort gegen das Coronavirus, bei gleichzeitiger starker Entzündung im Lungengewebe."
Ansätze für die Therapie?
Die aktuellen Befunde könnten auf neue Therapiemöglichkeiten hindeuten, meint Anna Aschenbrenner vom LIMES Institut der Universität Bonn: "Unsere Daten legen nahe, dass man bei schweren Krankheitsverläufen von COVID-19 Strategien erwägen sollte, die über die Behandlung anderer Viruserkrankungen hinausgehen." Eigentlich wolle man bei viralen Infekten das Immunsystem nicht unterdrücken, meint die Bonner Forscherin. "Wenn jedoch zu viele dysfunktionale Immunzellen auftreten, wie es unsere Studie zeigt, dann möchte man solche Zellen sehr wohl unterdrücken oder umprogrammieren." Jacob Nattermann, Professor an der Medizinischen Klinik I des Universitätsklinikums Bonn und Arbeitsgruppenleiter im DZIF, erläutert weiter, "Medikamente, die auf das Immunsystem einwirken, könnten vielleicht weiterhelfen. Das ist allerdings ein Balance-Akt. Denn es geht darum, das Immunsystem nicht gänzlich herunterzufahren, sondern nur jene Bereiche, die sich sozusagen selbst ausbremsen. Das sind in diesem Fall die unreifen Zellen. Möglicherweise können wir von der Krebsforschung lernen. Hier gibt es Erfahrung mit Therapien, die bei solchen Zellen ansetzen."
Bundesweites Teamspiel
Angesichts der vielen Beteiligten betont Schultze die Zusammenarbeit innerhalb des Forschungskonsortiums: "Diese Studie ist nach unserem Wissen eine der bislang umfangreichsten zur Immunantwort bei COVID-19 auf der Grundlage von Einzelzell-Daten. Die parallele Auswertung zweier unabhängiger Patientenkohorten ist eine der Stärken unserer Studie. Wir haben Patientengruppen von zwei unterschiedlichen Standorten mit verschiedenen Methoden analysiert und konnten so unsere Befunde direkt validieren. Das ist nur möglich, wenn Forschungsdaten offen geteilt werden und man vertrauensvoll kooperiert. Dies ist gerade in der aktuellen Krisensituation enorm wichtig."
Full press release from the DZNE here.
17-07-2020
DeCOI meeting with scientific discussions on the adaptive immune response to the SARS-CoV-2 virus infection. This is a very important topic on the fight against this virus and to develop effective vaccines in the future.
The brief agenda was as follows:
• Adaptive immune cell receptors (TCR/BCR) – Ezio Bonifacio/Anne Eugster
• AIRR and CoViD – Felix Brenden (Simon Fraser University, Canada)
• i Receptor and IFD AIRR – Christian Busse (Heidelberg)
03-07-2020
DeCOI meeting the discussion topics included COVID-19 virus and other sequencing data sharing.
29.06.2020
Genomdaten besser nutzen: Konsortium entwickelt die notwendige Dateninfrastruktur
Die Genomforschung spielt in der modernen Gesundheitsforschung eine zentrale Rolle und trägt heute bereits zur besseren Versorgung von Patienten bei. Bei Krebs kann die Analyse des individuellen Tumorerbguts genetische Veränderungen aufspüren, um diese mit gezielten Therapeutika zu behandeln. Genomische Analysen werden zudem seit einiger Zeit vermehrt eingesetzt, um die genetischen Ursachen von seltenen Krankheiten zu entschlüsseln. Die sensiblen Genomdaten bestmöglich zu nutzen und sie Wissenschaftlern in Deutschland und darüber hinaus auch der internationalen wissenschaftlichen Gemeinschaft verfügbar zu machen, und dabei gleichzeitig die Persönlichkeitsrechte der Patienten zu wahren, ist das Ziel des neu etablierten Konsortiums "Deutsches Genom-Phänom Archiv". Die DFG fördert diese neue Dateninfrastruktur-Initiative als Teil der Nationalen Dateninfrastruktur-Initiative (NFDI) für zunächst fünf Jahre.
EN-Genome research plays a central role in modern health research and is already contributing to better patient care. In the case of cancer, the analysis of the individual tumor genome can detect genetic changes in order to treat them with targeted therapeutics. Genomic analyses have also been increasingly used for some time to decipher the genetic causes of rare diseases. Making the best possible use of sensitive genome data and making them available to scientists in Germany and beyond to the international scientific community, while at the same time protecting the personal rights of patients, is the goal of the newly established consortium "German Genome Phenomenon Archive". The DFG is funding this new data infrastructure initiative as part of the National Data Infrastructure Initiative (NFDI) for an initial period of five years.
19-06-2020
The current pandemic crisis triggered by SARS-CoV-2 leads to very different disease courses of COVID-19 ranging from very mild to very severe with multi-organ failure. A significant number of patients with severe symptoms even succumb the infection. The host's cellular reaction seems to be of utmost importance and responsible for this heterogenous response to the virus. Clearly, single cell omics can significantly contribute to our understanding of cellular reactions of infected cells and the response of the immune cells towards the infected cells. Over the last weeks, the German COVID-19 OMICS Initiative was established to coordinate NGS-based research efforts in COVID-19 research in Germany and together with colleagues world-wide. I will present initial results from single cell omics studies that are conducted on patient samples derived from COVID-19 patients within DeCOI.
19–06-2020
DeCOI meeting and updates.
12-06-202
DeCOI meeting to discuss possible funding structures to apply for.
05-06-2020
First DeCOI Science Webinar on the first DeCOI single cell study being written up and submitted with the Title:
"Suppressive myeloid cells are a hallmark of severe COVID-19"
presented by Birgit Sawitzki (Charite, Berlin), Emmanuel Saliba (HIRI, Würzburg), and Jonas Schulte-Schrepping (LIMES-Institute, Bonn)
29-05-2020
Updates on DeCOI manuscripts and acknowledgement of DeCOI in scientific publications.
22-05-2020
The DeCOI board structure was finalized along the Module 1 (data generation) and Module 2 (data management).
17-05-2020
Short Youtube Video by the German Ministery of Health about the visit at Radboud.
15-05-2020
Professor Schultze presents DeCOI at Radboud UMC in Nijmegen to Ministers of Health Hugo de Jonge from the Netherlands and Jens Spahn from Germany. Based on existing collaborations between Radboud UMC (LifeTime, ImmunoSep, Human Functional Genomics Projekt (HFGP) and bilateral projects between Radboud and the University of Bonn) DeCOI can now quickly extend its collaborative efforts towards European partners.
DeCOI will also collaborate with the large studies on effect of the BCG vaccines on coronavirus in the elderly initiated by Professor Mihai Netea at Radboud UMC.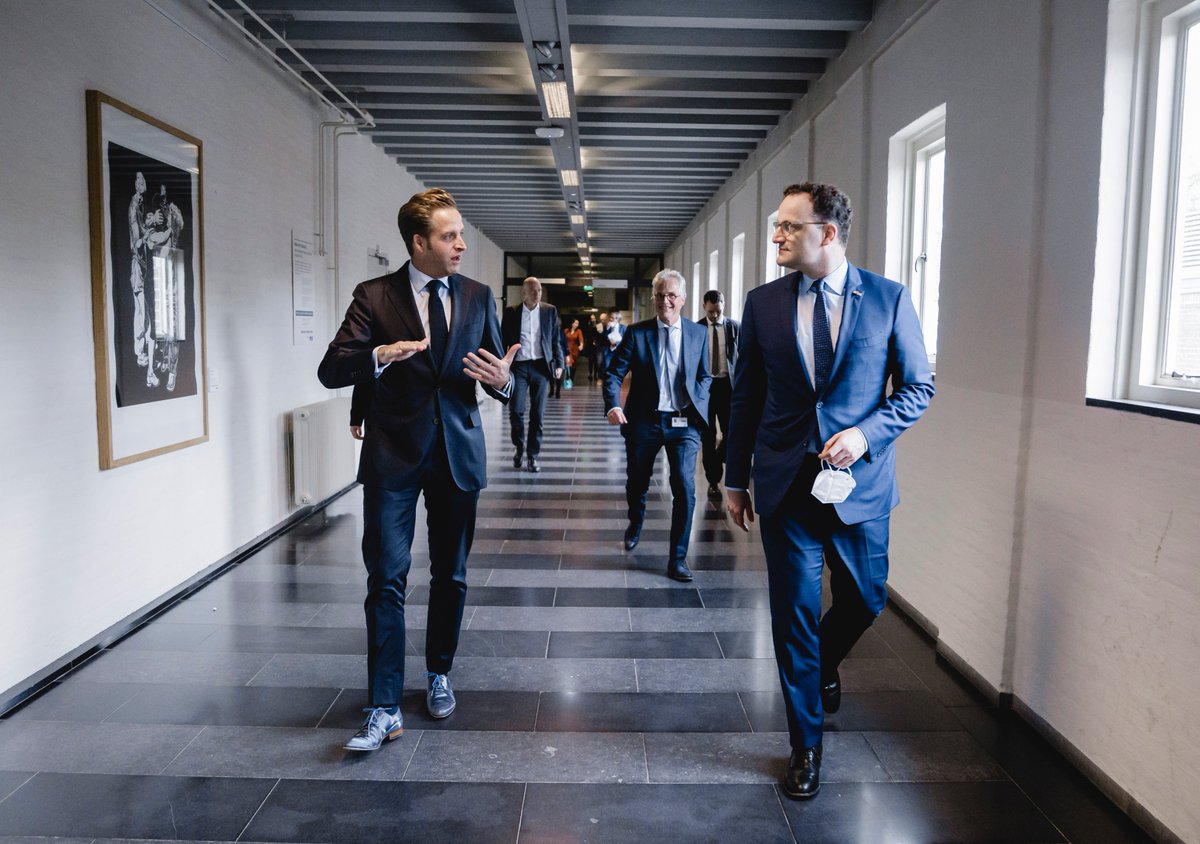 15.05.2020
DeCOI discusses the next steps in building the network in the weekly Zoom telco.

14.05.2020
DeCOI meets the German Biobank Node. Professor Schultze presents the concept of DeCOI to the members of the German Biobank Node at their weekly online meeting. The close collaboration between DeCOI and the German Biobanks is emphasized at the meeting. Both networks agree on intensifying the collabortations.
13.05.2020
DeCOI applied for funding for two modules by the National COVID-19 Research Network.
The network now includes more than 60 research groups at 42 institutions in Germany including 13 university hospitals
12.05.2020
DeCOI is featured in a newspaper article (Generalanzeiger)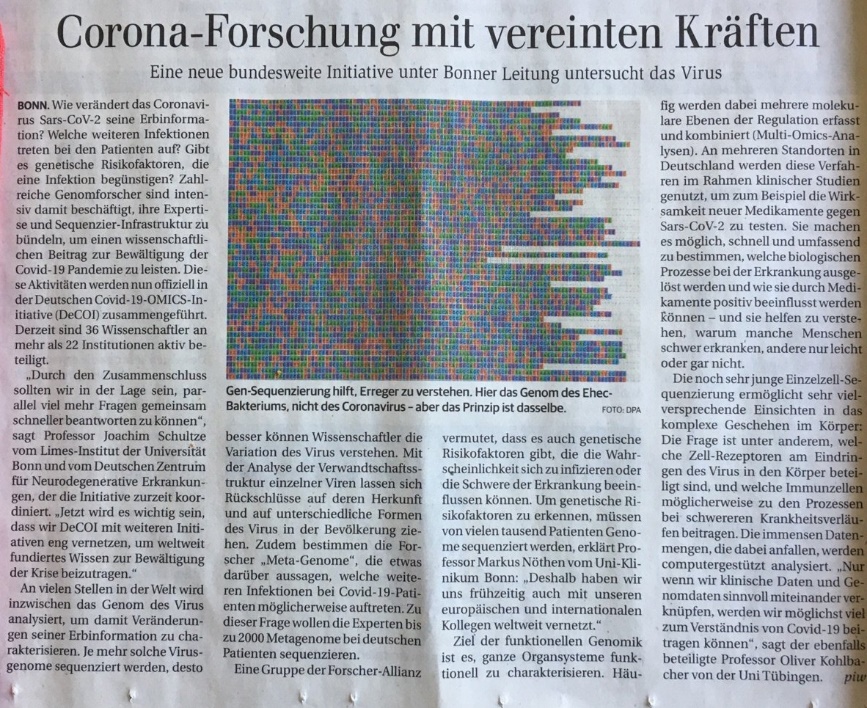 12.05.2020
COVID-19: DeCOI initiates a study and asks former COVID-19 patients to participate.
Link to the Press Release by the
Also mentioned by the WDR
11.05.2020
DeCOI: Deutsche Covid-19 OMICS-Initiative in the News section of the German Biobank node. (Link)
GenomforscherInnen haben sich in der Deutschen Covid-19 OMICS-Initiative (DeCOI) zusammengeschlossen. "Um die Hochdurchsatzsequenzierung optimal zu unterstützen, haben DeCOI und GBN/GBA eine enge Zusammenarbeit vereinbart, um schnellstmöglich geeignete Bioproben ausfindig zu machen und für die Sequenzierung zur Verfügung zu stellen", erklärt GBN-Leiter Michael Hummel.

10.05.2020:
DeCOI meets LifeTime. At the weekly Sunday meetings of the LifeTime COVID-19 Task Force meeting Professor Schultze presents the concept of DeCOI.
08.05.2020
Press Release: The formation of the DeCOI is featured by numerous participating institutions of DeCOI.
Link to Press Releases at the following institutions

08.05.2020
DeCOI discusses two modules to be submitted to the National COVID-19 Research Network at its weekly ZOOM telco.
24.04.2020
DeCOI discusses major research areas to be included into the program of DeCOI.
17.04.2020
DeCOI welcomes new members to the Initiative. Scientists from more than 12 institutions already joined the initiative. Members of the DFG-funded NGS competence centers report about their most recent efforts in ramping up sequencing capacities in the fight against COVID-19.
09.04.2020
Members of the DFG-funded NGS competence centers meet members of the German Human Genome Phenome Archive (GHGA) consortium in a virtual meeting to discuss further aspects of joining forces in the fight against the pandemics. They officially form the Deutsche COVID-19 OMICS Initiative. The initiative is open to all scientists in Germany with expertise in OMICS research and interested in providing their expertise in the fight against the pandemics.
02.04.2020
The NGS-CN members meet for the next virtual meeting to discuss next steps in shaping the program in the fight against the pandemics.
27.03.2020
The members of the NGS-CN competence centers define concrete projects to address questions concerning the viral genome, the host genome and functional genomics projects.
25.03.2020
Members of the NGS-CN competence network meet to further discuss to join their forces and to formulate defined projects via virtual telco meeting.
24.03.2020
A first joined meeting between members of the German Human Genome-Phenome Archive (GHGA) and the DFG-funded NGS competence centers was organized to evaluate a joint program against SAR-CoV-2.
23.03.2020
Members of the NGS-CN competence centers meet to discuss a joined program in OMICS-research in context of the pandemic crisis.